Gender Pay Gap 2022
The Hotel Folk is one single legal entity which employs more than 250 employees over six hotels and a country club. We are committed to ensuring equal pay between women and men for equal work, and equality in all contractual terms and benefits.
We believe this is our ongoing moral obligation as well as continuing to ensure we comply with the Equality Act 2010. We believe we continue to pay fairly based on the Company's business performance and market conditions.
What is the gender pay gap?
The gender pay gap is the difference between the average (mean or median) earnings of men and women across a workforce. The figures contained in this report have been calculated using the methodology stipulated by UK legislation. Equal Pay highlights the pay differences between men and women who carry out the same jobs, similar jobs, or work of equal value. As such, no inference can or should be made about equal pay using gender pay gap information. The Hotel Folk are required by law to publish an annual gender pay gap report and this report is for 5 April 2022.
Mean Gender Pay Gap this is a comparison of the average hourly rate of pay for men compared to the average hourly rate of women. This snapshot date the figure is 8.5%. This means that the average hourly rate for men is 8.5% higher than the average hourly rate for women. Our Head Chefs, CEO and five of six Hotel Managers are male, along with most chefs. We continue to see many women in lower skilled, part time roles with a need to fit working hours around childcare and caring responsibilities. Men starting roles on the same hourly rate are often able to undertake a variety of working hours and have more option for profession that fits with their work/life balance.
Median Pay Gap this shows the difference in the middle hourly rate of pay figure when comparing men and women. Ours is 3.1%. The middle rate for men is 3.1% higher than women. This means that although there are more men in higher paid roles there is a different of 3.1% when comparing men and women in a list from the lowest hourly rate to the highest hourly rate. One explanation is that with men often working more hours than women this affects the amount of tips they receive, so affecting their final hourly take home rate. For this period we paid double tips over the summer to reward employees, so those working more hours were at greater advantage.
Quartile Distribution Men and women who were full-pay relevant employees were sorted using their hourly pay then divided into 4 equal quartiles, the percentage of men and women in each quartile is shown below:
Lower Quartile 41.8% men / 58.2% women
Lower Middle Quartile 36.7% men / 63.3% women
Upper Middle Quartile 43% men / 57% women
Upper Quartile 54.4% men / 45.6% women
Pay Gap
The most recent relevant gender pay gap report we can compare to is 2019 as due to COVID-19 and furlough payments the following years have not given a true reflection of our efforts. Since 2019 we have re-branded as a company and many changes have been made including investment in training and development, and opening our own dedicated training centre to support all our employees. We continue to work hard on our recruitment and retention plans to ensure we recruit and retain skilled employees and pay a fair rate to the best available person for the role.
All our roles have the same pay structure regardless of gender.
The Future
At The Hotel Folk we want to ensure all our colleagues have the opportunity to fully develop their career, regardless of their gender, background or education. We believe we compare favourably with the national averages for the hotel industry and commit to the aim of reducing our gender pay gap.
We offer where practicable a high level of flexibility with regard to working patterns and encourage returnees, we believe it is right to ensure our policies and practices for this are fair, We are not complacent about gender pay gap and will be actively reviewing decisions around our annual pay review and considering ways in which we can support more women to reach leadership roles.
Every "Folk" has a part to play in contributing to The Hotel Folk success and we believe it is important that everyone is rewarded fairly for the performance of our business.
Actions:
Continue to support personal and professional development through restarting performance reviews for 2023
To continue to encourage uptake of apprenticeships, starting a Chef Academy for new recruits to the Kitchen and training our current chefs to further their careers
Undertake Hotel Folk engagement surveys and implement findings
Restart Company "Folk" Focus groups (ceased due to COVID-19) to understand improvements as felt needed by our Hotel Folk
All Head of Departments are now updated weekly with business information, sales data, challenges, training updates and plans for improvement of the group of hotels by the CEO. This allows better communication and for all to feel part of the team
Bonus Pay Gap
The following results are comparing bonus payments, where a bonus is regarded as any payment related to profit sharing, productivity, performance, incentive, or commission, e.g. tips, employee of the quarter awards, long service etc.
Hotel/General managers and head office employees do not receive a share of any gratuities received by the Company; however, some have received long service or performance awards. All Head Chefs and Hotel/General Managers have received performance bonus payments this year.
The bonus payment percentages are intended to reflect the distribution of bonus payments made to men and women "relevant employees", who were paid bonus pay in the 12 months that ended on the 5th April 2022. 97% of male employees received a bonus and 98.4% of women received a bonus.
Comparing the average/mean bonus paid to men and women the figure was 25.7%, therefore on average men were paid 25.7% more in bonus payments than women. The median bonus pay figure is the difference between the median (middle) bonus pay paid to relevant employees who are men, and the median bonus pay paid to relevant employees who are women, ours is 8.5%.
The higher mean figure is related to all our Head Chefs, 5 out of 6 of the Hotel/General Managers and our CEO all being male. Out of those men and women who did not receive a bonus payment, two are Non-Executive Directors, the remainder are Head Office support employees who do not get tips and would not have received Long Service or performance rewards. We doubled the tips received from customers (for those eligible to receive tips) for certain months in this review period to reward the hard work of our fellow folk in the busy times and progress with their training.
I can confirm our data is accurate and has been calculated according to the requirements and methodology set out in the Equality Act 2010 (Specific Duties and Public Authorities) Regulations 2017.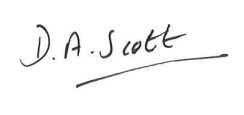 Agreed by Mr David Scott, Chief Executive Officer, January 2023